Home
Welcome to Belfast Sub-Aqua Club
(Established in 1954 and affiliated to the British Sub Aqua Club in 1956)
The Belfast Sub-Aqua Club is based in Northern Ireland.
The club was established in 1954 and affiliated to the British Sub Aqua Club in 1956.
The club's accredited instructors provide training to BSAC Diver Qualifications.
The club organises diving expeditions for its members both locally and overseas.
Whether you are new to scuba diving or an experienced diver the Belfast Club offers a warm welcome to new members.
If you are interested in joining the Belfast Sub Aqua Club, please contact us by email. Include a return phone number where we can contact you. Alternatively, you are welcome to come and meet us on our regular club night.
Our Regular Club Night: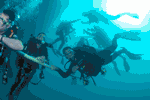 Day: Monday
Where: Club-house @ 421 North Queen Street, Belfast.
Time: 8.00 pm to 11.00 pm
Training: Pool @ Grove Wellbeing Centre, 120 York Road, Belfast.
Time: 9.00 pm to 10.00 pm.
Share DiveBelfast.com with your friends on Social Media.





---